Creative Angels Fashion Benefit trades as a private company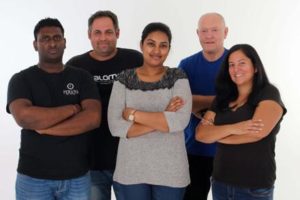 Creative Angels Fashion Benefit Founder, Prenessa Nalliah, first had the idea of hosting a fashion show to raise funds for a good cause in 2012. As there were never any plans to formalise the concept beyond a single fundraiser, it took many years of field testing, practice and deliberation with the growing family of entrepreneurs and partners to decide to trade as a private company. Because we commit to the positive transformation of South Africa through our work with youth and aspiring creative artists, we are often mistaken for being a non-profit organisation (NPO) but this article will explain how and why we got to this point.
How did Creative Angels Fashion Benefit start?
Having discreetly trained as a fashion model during her school years, Prenessa saw the opportunity to train others during her time at university. She was training a photographic model while doing basic photography to help him put together portfolio images when he was suddenly distressed by his mother's need for surgery. Prenessa spoke to the model to propose the idea of a fundraiser fashion show, and came up with the name.
After a short while, the model backed out but because the call for fashion designers had already been published, Prenessa pushed ahead and looked for another beneficiary of any funds that would be raised through the project. This is how Creative Angels Fashion Benefit became a part of her personal mission to positively transform South Africa.
What was the first CAFB Fashion Show like?
On the 9th of June 2012, Prenessa and her team hosted the Creative Angels Fashion Benefit at Gardens Commercial High School. TV and Radio personalities, Soli Philander and Roshan Philander, presented the inaugural event to an audience of hopeful people, who had flown in from across the African continent just to attend. Despite being only 19 years old, Prenessa had led a team to a successful first production.
What kept CAFB going after the first fashion show?
During the build-up to the first instalment of the Creative Angels Fashion Benefit, a young female model trainee in the programme had emailed Prenessa some feedback on a photoshoot. The young model trainee was living in an informal settlement in Cape Town and had come from the Eastern Cape to look for a job, because she had to leave school to earn enough money to look after her family. Without a matric certificate and without previous experience, she was quickly running out of options and transport money to look for work. On the morning of the photoshoot, the model trainee had resolved to commit suicide if the photoshoot didn't offer any hope of a better life.
In the email, Prenessa read that the photoshoot was the first time the young model trainee had ever been told she looked beautiful; that she had a strong jawline and that she looked gorgeous in an off-the-shoulder dress (brought in by a designer in the fashion business programme). The model trainee had said to Prenessa that the photoshoot experience itself had saved her life. This intensely emotional experience is what drove Prenessa to continue running the Creative Angels Fashion Benefit, to see what more could be done for the youth of South Africa.
What happened after the first CAFB fashion show?
Prenessa kept running the Creative Angels Fashion Benefit with a 100% transparency policy that is still running today. Anyone who would like to question what the CAFB does for communities is able to book an appointment to go through documents and financial details to see how money comes into and moves out of the project. A trademark application was lodged with CIPC to protect the name and the logos.
Creative Angels Fashion Benefit is a registered trademark.
Still unsure of how long the CAFB project would run for, Prenessa followed her mentor's advice in 2013 and applied for trademark registration of the brand name and logos. This would protect the brand as it grew over time, and prevent anyone else from using its developing name for another operation. Trademarks for CAFB were approved and assigned in Class 41, which permitted the trademarks to be used for fashion, entertainment and educational purposes, including the act of fundraising.
Why isn't the CAFB a non-profit organisation?
Between 2013 and 2017, as Creative Angels Fashion Benefit continued to grow, the trademark itself was not enough to run the project with. The brand demanded more investment and a channel through which to receive and provide funds, that was separate from Prenessa as an individual. The 2017 production unit met to discuss the options, and it was agreed that an NPO would require more administrative work and provide less freedom in terms of corporate governance.
Being the person who developed the concept, Prenessa also held concerns about requiring two other Trustees as a minimum for an NPO. At 25 years old, she volunteered herself to take sole responsibility of the entity, and with that the path of a private company was selected. Today Prenessa is the sole Director of a company called Perana Viosa, which is the registered owner of the CAFB project and trademarks.
Why is Creative Angels Fashion Benefit a private company?
Despite what anyone might think or believe, there are NPOs which pay inflated salaries to executives, while exhausting the volunteer pool on the frontline. Prenessa's experience with a few of these NPOs supported the decision for the CAFB to run as a private company because:
The CAFB would accept volunteers and interns without exhausting them on full time schedules, so that the experience they earned at CAFB could help them earn income elsewhere.
The CAFB would strive to pay staff salaries without reducing support for beneficiaries of its programme and outreach efforts. Up until 2019, Prenessa has not taken a salary from the CAFB and maintains the 100% transparency model for this to be validated first-hand by anyone who wishes to do so.
Nepotism and cronyism would not prevent the CAFB from positively transforming communities, one creative person at a time.
The CAFB would not fall victim to a donation-only income stream, and be forced to part ways with ethics, morals and values as an organisation, to commit to the will of financiers with no desire to leave South Africa a better place.